Enegaeru is the No.1 energy diagnostic cloud service in Japan. - Economic effect simulator for residential solar and storage batteries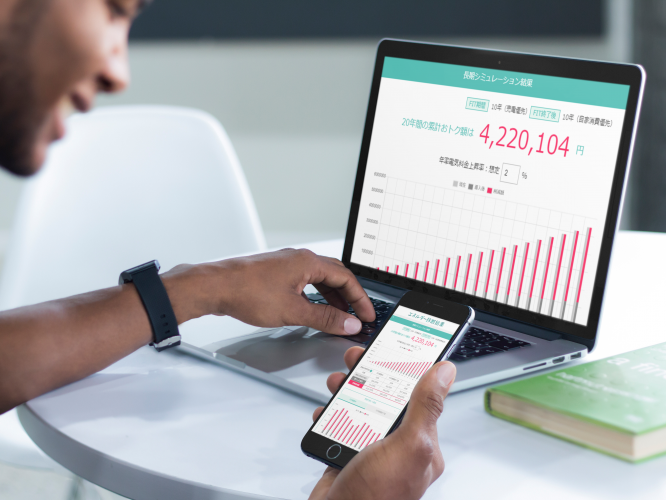 Kokusai Kogyo is a leading company in geospatial information and disaster prevention solutions in Japan.
We also use surveying technology in administering many projects around the world in the areas of Renewable Energy, SDGs and Climate Change.
I'm in the Digital Energy Group of the Energy Department.
The Energy Department works on renewable energy and the establishment of community-based Power Producers and Suppliers (PPS) with local governments.
The Digital Energy Group provides B2B SaaS and API services for the energy sector.
I am developing a business for Enegaeru, a cloud service for our products. My clients include famous major Japanese manufacturers, major electric power companies and about 300 solar and storage battery sales companies.
We provide a service called 'Enegaeru'. Enegaeru is an energy optimizer in the cloud. Enegaeru can optimize the most efficient electricity rate plans for our customers. Enegaeru estimates and simulates the economic effects of solar power and storage batteries for residential houses. We also provide Enegaeru service to about 300 companies, from large companies to small and medium-sized companies.
For example, major manufacturers of storage batteries such as Panasonic Group and Murata Manufacturing are using Enegaeru service, as well as major trading companies such as ITOCHU.
Enegaeru is the No.1 energy diagnostic cloud service in Japan.
Enegaeru was developed in-house. We have two patents for simulating electricity rate plans with high accuracy.
There are 300 companies in Japan with more than 3,000 electricity rate plans. Therefore, it takes time to review all these plans, making it difficult to determine the economic effects of installing solar panels and storage batteries in Japanese homes.
With Enegaeru, anyone can estimate the economic effects of installing solar panels and storage batteries. It is easy and the results, showing the optimal electricity rate plan, can be simulated in less than 1 minute!
However, at this moment, our main clients are mainly storage batteries manufactures, sales companies, construction companies, and builders.
We update the 3,000 electricity rateprice plans once every other month so thatto our customers will be able to simulate their best electricity rate plan the optimal electricity price plan from a wide range of plans and optionsoptions. This coverage makes us the This is the No. 1 in Japan. coverage rate in Japan. In Japan, We are the only company that has this amount of data with such data in Japan.
Enegaeru can be used starting from from an initial cost of 100,000 yen (or 1000 dollars) and a and am monthly fee of 50,000 yen (or 500 dollars). The gross profit off Japan's storage battery sales is about 500,000 yen (or 5000 dollars) per unit. According to thisTherefore, our Enegaeru clients can recover their investment in Enegaeru if they can sell 2 or 3-3 storage batteries per year.
Are you interested in the Japanese household electricity market or the solar power / storage battery market?
If you are interested in Enegaeru, you can try it free for 21 days.
If you are interested in the Japanese home electricity market or the solar / storage battery market, please feel free to contact us. I'm sure I can help you with your business.